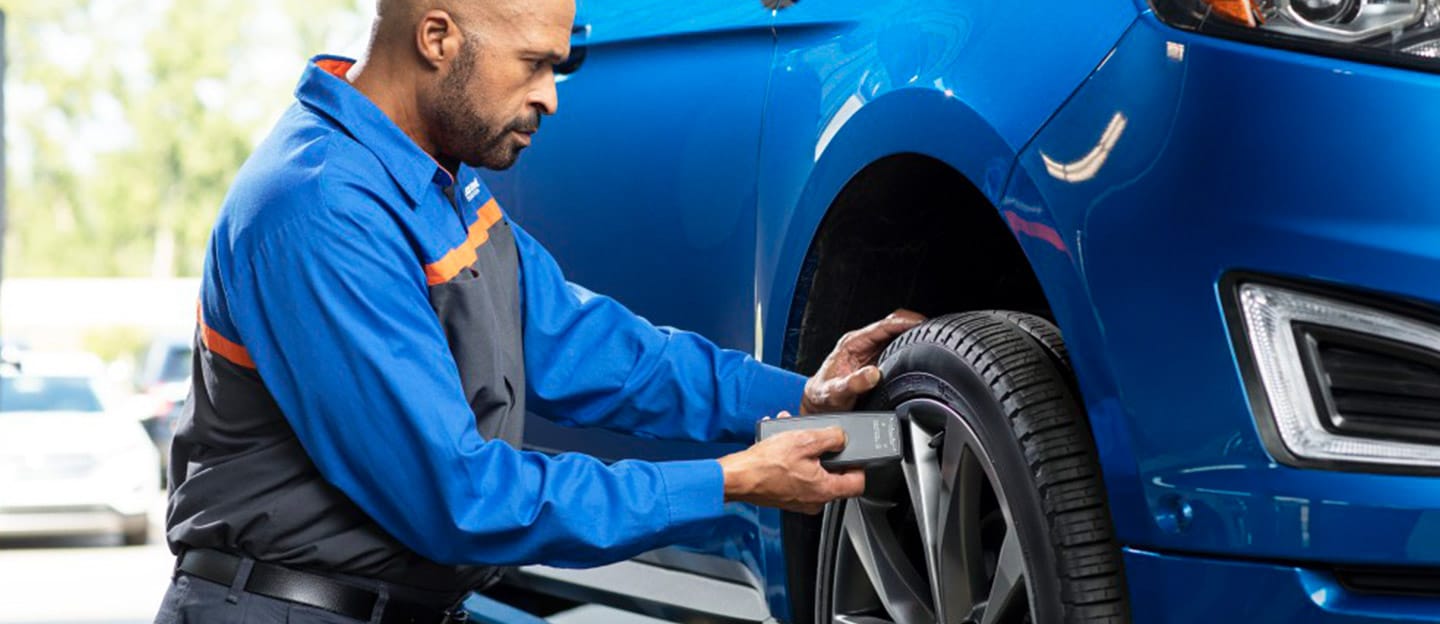 Quick Lane® Auto Service in Sulphur
Expert Auto Service for All Vehicles at Quick Lane Auto Center®
Do you need quality auto services done fast at a great price? Bring your vehicle to Mike Wills Ford Quick Lane® to have service performed by factory-trained experts on vehicles of any make and model. That's right, we handle more than just Ford at Quick Lane®. We'll give your car, truck, or SUV the quality service it deserves with the finest parts from trusted brands like Motorcraft®, Goodyear, Michelin, and more!
You don't need an appointment for great auto service in Sulphur. Walk-ins are welcome anytime, including evenings and weekends. Your vehicle will get the service it needs while you relax in our comfortable waiting room. The Quick Lane® service experts in Sulphur will inspect your vehicle and provide a Vehicle Check-Up Report you can use to keep track of its maintenance needs.
Sulphur Quick Lane® Auto Services
Tire Buying, Care & Maintenance
Looking for a fresh set of tires in Sulphur? The Quick Lane® Tire & Auto Center at Mike Willis Ford can find the perfect match for your vehicle and our experts can recommend the right tires for current conditions. Proper tire maintenance is just as important as the right set of tires, and Quick Lane can keep you on the road longer with the following important services:
Tire inspection for proper inflation and wear
Tire rotation
Wheel alignment
Tire mounting and balancing
When choosing to replace your tires, the proper options are key. We offer 13 name-brand tires to ensure we have the right replacement for your make and model vehicle. We can recommend the right choice for your driving needs. 
Michelin
BF Goodrich
Uniroyal
Goodyear
Dunlop
Kelly
Continental
General
Hankook
Pirelli
Bridgestone
Firestone
Yokohama
Oil Change Service in Sulphur
Wondering how often you should get your oil changed? The experts at Quick Lane® Tire & Auto Center at Mike Willis Ford can help. Proper oil and filter maintenance are critically important to keeping your vehicle running well and extending its life. Not only that, you can even improve your gas mileage if your oil is in proper shape, and that's important these days. We offer the highest quality oil and filter products to ensure only the best keeps your vehicle running.
Sulphur's Quick Lane® techs can review the scheduled maintenance requirements for your vehicle and let you know when it's time for an oil change and any other important regularly scheduled maintenance tasks. We have a number of options for your oil change needs:
Oil & Filter Change
Replace your oil with premium-quality Motorcraft® Synthetic Blend Oil which includes specially designed performance additives.
The Works®* Package
The Works gives you the best regular maintenance value for your dollar. It goes beyond an oil change and checks several important systems to ensure they are in top condition. The Works include:
Synthetic Blend Oil Change
Tire Rotation and Pressure Check
Brake Inspection
Vehicle Checkup
Fluid Top-Off
Battery Test
Filter Check
Belts and Hoses Check
Brake Service in Sulphur
Regular brake service is one of the most important maintenance tasks your vehicle requires. Reliable brake performance is important for any vehicle, and the Mike Wills Ford Quick Lane® service technicians are brake experts. They will inspect your brakes for any deficiencies and provide you with a solution. They can replace your brake fluid, resurface your rotors, and inspect the pistons, seals, boots, and brushing for any sign of wear or leaks. 
Battery Testing and Replacement in Sulphur
Is your vehicle a little sluggish to start? Now is the time to have it tested at our Sulphur Quick Lane® Tire & Auto Center. The last thing you want is a dead battery when you're away from home or have to make it to work or school in the morning. Our technicians will test your battery and recommend a replacement that is right for it. 
Quick Lane® Tire & Auto Center will replace your car battery with one that is:
Manufactured to the highest quality standards and latest technologies in design and engineering
High quality at competitive prices
Have excellent warranty coverage
Cooling System Service in Sulphur
Proper cooling system maintenance is essential in Sulphur, especially in the summer when temperatures are high for months at a time. A cooling system that isn't working properly can cause overheating and lead to damage to your radiator. The technicians at the Sulphur Quick Lane® Tire & Auto Center will inspect your cooling system for any issues and recommend replacements if necessary. We will review your hoses for any leaks and test your vehicle's operating temperature to ensure it is not overheating.
Belts and Hoses Replacement in Sulphur
A broken belt of worn out hose can be the cause of a disabled vehicle. The Mike Willis Ford Quick Lane® Tire & Auto Center will inspect your belts for any signs of wear and tear and check your hoses leaks or cracks. Preventative maintenance like this will ensure your vehicle is ready to go whenever you are and get you to your destination reliably. Our parts department has high quality replacement parts ready to install if needed.
What we inspect:
Belts for wear and cracks
Test for correct belt tension
Check hoses for leaks and cracks
Pinch-test of hoses
*Up to six quarts of Motorcraft® oil and Motorcraft oil filter. Hybrid battery test excluded. See participating U.S. dealership for exclusions and details. Motorcraft® is a registered trademark of Ford Motor Company.
Hours
Monday

7am-5pm

Tuesday

7am-5pm

Wednesday

7am-5pm

Thursday

7am-5pm

Friday

7am-5pm

Saturday

8am-1pm

Sunday

Closed