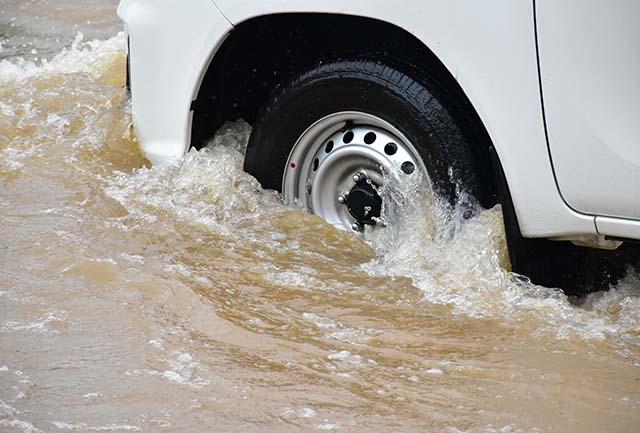 As members of the Gulf Coast community, Louisianans are no strangers to bad weather. It's part of life in this great state, but that doesn't make it any easier when your car becomes flooded after a storm. Mike Willis Ford has been proud to serve Sulphur for many years, and we want you to know that we've got your back if your vehicle has been flooded by the recent storms. If your vehicle got caught in a flood, come see us. We'll let you know if it's worth saving or if it might be time for a new vehicle. Our factory-trained technicians can give it a top-to-bottom inspection to help you make an informed decision. While a flooded vehicle is not a forgone conclusion, it is imperative that you get it in for repairs as soon as possible to reduce the damage.
If your vehicle gets caught in a flood, do not try to start it. This is probably the biggest step you can take early on to minimize the damage. Just get as much water as you can out of the interior and have it towed to our advanced service center. Even if you feel comfortable maintaining your vehicle under normal circumstances, we highly recommend bringing it in for flood repair. There is an extensive list of steps needed to ensure your engine is free of water and safe to drive, so it's best left to the experts. If you decide that you want to go ahead with repairs, we'll get to work right away! We'll drain and clear the gas line, replace the oil and filter, change out the spark plugs, and perform any other maintenance required to have your engine running as good as new.
If the damage is too extensive to repair, we have a great selection of new Fords and high-quality pre-owned vehicles to replace your old ride. A new Ford F-150 could be just what you need to get over the loss of your flood-damaged vehicle!
Whether you're looking for expert vehicle repair or a fresh new ride, Mike Willis Ford is here for you! We're your trusted source for new Ford vehicles and used cars, trucks, and SUVs of all brands. If you're anywhere in the Sulphur, Lake Charles, Carlyss, Moss Bluff, Deatonville, Vinton, Orange, Dequincy, Deweyville, Perkins, Iowa, or Cameron area, come see us for a great price on your next vehicle!